Filtering Iframes with Custom Attributes
In the following article, links will be referenced as originating from system.spektrix.com. If you have implemented a custom domain for your Integration, please replace system.spektrix.com with your chosen subdomain.
There are lots of reasons why you may want to filter the items displayed within an Iframe. Below are some common examples of this:-
You would like a page on your website to link to only events that are part of a particular festival.
You would like a page on your website that only displays merchandise items associated with a particular show or gallery installation.
You would like to have two separate webpages for your memberships, one for corporate memberships and one for general memberships.
You would like to create a donations webpage for a specific fund without displaying all available online funds.
Creating Custom Attributes

Filtering Iframes relies on the creation of custom attributes. Attributes can be created by a member of the venue's team in the "Settings" interface in Spektrix.

Firstly we need to decide on exactly what type of attributes we are going to create, what they will be an attribute for and what they will be called.

When setting up attributes for filtering particular items in an Iframe you have to add an attribute into the correct part of the system. For example if you are filtering memberships into "corporate" and "general", you would need to create a membership attribute.
Types of attributes

Each attribute can be either a:
Currency Field
Date/time Field
Drop-down List
Text Field
Check-box
For the purposes of filtering the best attributes for the job are Drop-Downs:

and yes/no Check-boxes:

Applying the attributes

Once you have created an attribute in your system you can apply these to your specified items.

Using example number 1 above. If you were creating an Iframe specifically for your New Writing Festival. You would go through all the events that are part of this festival and set the attribute called "Part of Festival" to "New Writing Festival".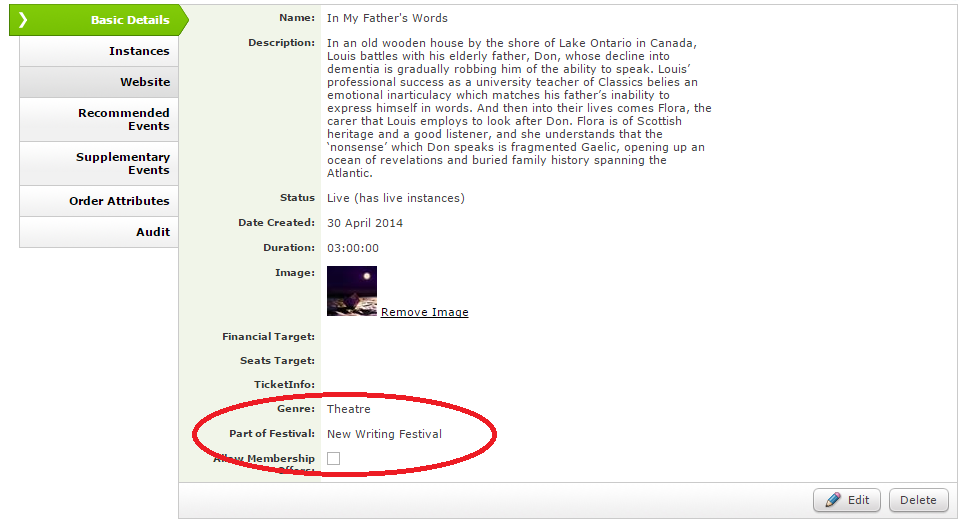 Referencing these attributes in Iframe addresses
Selecting the correct Iframe

The following Iframes can be filtered using attributes:
eventlist.aspx

eventcalendar.aspx

merchandise.aspx

memberships.aspx

donations.aspx
If you test the following web address with the client name inputted, you will see that it links through to a webpage with all of your events listed with no filtering.
http

s:

//

system

.spektrix.

com

/clientname/website/eventlist.aspx

Adding an attribute filter

By following any of the above links with:
?Attribute_Name of Attribute=Value of Attribute

you can then start to filter your results to specific items.
By combining both the standard iframe url with an Attribute Filter you can filter exactly what will appear in your Iframes. If the Attribute names or values use any spaces, using %20 in place of the space will allow this to be accepted by a browser.
Please find below some examples of how they could be displayed online.
1. Part of Festival (New Writing Festival)
There are two events as part of this festival, "In My Fathers Words" & "Spektrix the Musical".
We would use a drop-down attribute on the event for this filter:

and iframe url with filter would be:
https://system.spektrix.com/yourclientname/website/eventlist.aspx?Attribute_Part%20f Festival=New%20Writing%20Festival

2. Merchandise Type (Family Show)
There are three merchandise items that you sell for all your family shows. These are a Programme, Flashing Axe and a Snow White Costume.
We would use a drop-down attribute on the merchandise items for this filter:

and iframe url with filter would be:
https://system.spektrix.com/yourclientname/website/merchandise.aspx?Attribute_Merchandise%20Type=Family%20Show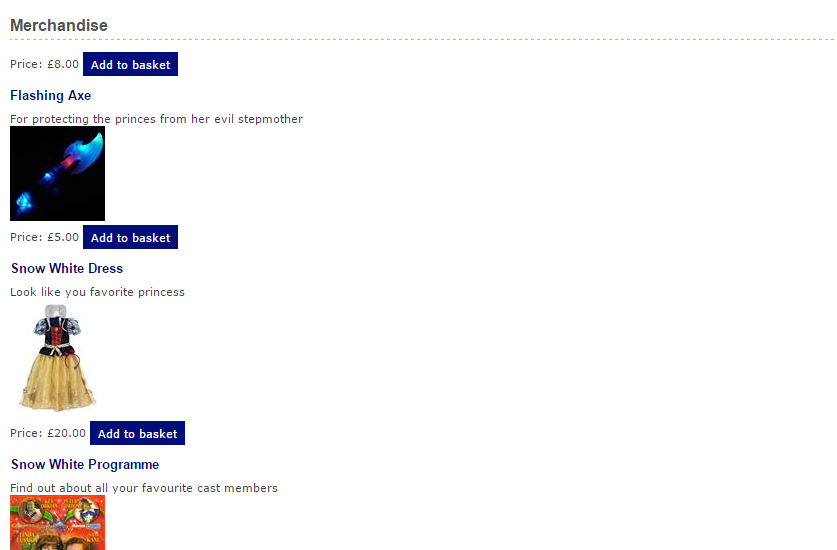 3. Membership Type (Corporate)
To display only the corporate membership in an Iframe
This also uses a drop-down attribute, this time on memberships:

and iframe url with filter would be:
https://system.spektrix.com/yourclientname/website/memberships.aspx?Attribute_Membership%20Type=Corporate

4. Online Donations Page (Yes/No)
To only display one specific fund on an online donations page.
For this scenario, we would use a check-box for the filter:

and iframe url with filter would be:
https://system.spektrix.com/yourclientname/website/donations.aspx?Attribute_Online%20Donations%20Page=1
Yes/No Attributes are technically Booleans, so 1 = Yes and 0 = No